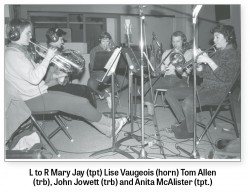 Jeunesses Musicales Ontario (JMO) and the National Youth Orchestra (NYO) Canada have orchestrated
Raise the Bar
, a fundraiser on June 8, as part of their continued support of the next generation of professional classical musicians. Tom Allen will be hosting the intimate evening of music, cocktails and hors d'œuvres, and he'll be joined by fellow alumni James Ehnes, Russell Braun and other award-winners in performance in the elegant Great Hall of U of T's Hart House.
Since 1979, Jeunesses Musicales Ontario has provided emerging Canadian artists with concert tours as well as educational concerts for young audiences. Since 1960, NYO Canada has held an iconic reputation as Canada's pre-eminent orchestral and chamber music training institute, providing the most comprehensive and in-depth training program available to our best young classical musicians.
We asked Tom Allen to comment on the organizations' shared values, both as an observer and as the recipient of many advantages as a result of his involvement with them as a youth.
He noted that "…the work being done by Jeunesses Musicales and the NYO Canada doesn't only nurture musical talent – it nurtures a benevolent and caring and enlightened society."
His own experiences included the honour of being bass trombonist in the NYO in 1982 and 1985, and part of a resident brass quintet in 1984. That quintet went on to a professional career as the Great Lakes Brass, which he toured with from 1984 to 1990. He notes that "during those years we were helped considerably by JMC, who sent us on a couple of tours and helped us find rehearsal space in Toronto, as well" and that there were other benefits to him as a young musician: there was generosity in support and career guidance, as well as lessons not only in artistry and musicianship but also the universal and transferable life skills needed by emerging professionals.
He is still grateful for the connections and experiences he gleaned. Despite a climate of arts-funding restraint, he didn't miss out on invaluable recording and performance opportunities. JMO and NYOC still nurture high-level playing and professional development. The NYO offers that experience and, likewise, "…because of those same economic forces, classical musicians in Canada (and everywhere else) must be more adaptable, more flexible, more inventive and quick-on-their-feet than ever before, and JMC supports and nurtures that approach. The two are both sides of a (more and more hard-to-come-by) coin."
For more information visit raise-the-bar.ticketleap.com/gala
This article appeared in the May 2016 issue of The WholeNote magazine.